WSA GLOBAL CONGRESS 2020 VIENNA
HACK THE GAP – DIGITAL SOLTIONS FOR THE UN SDGS MARCH 9-11, 2020 The WSA Global Congress Vienna
Read more.
The Digital Universities of Madagascar
The Digital Universities of Madagascar will be inaugurated on Tuesday, May 14, 2019. The concept was launched in 2012 by
Read more.
Hackathon WSA 2019
Hackathon World Summit Awards – WSA 2019 Call for applications The ISOC Madagascar chapter of the Internet Society, WSA Madagacar
Read more.

World Summit Awards 2019
The World Summit Awards are a unique awards system, selecting and promoting local digital innovation with high impact on improving society. Is a non-monetary award system with
Read more.

wsa DOKA en
2nd edition of the Josef Umdasch Research Prize in partnership with WSA DOKA call for ideas
Read more.
Nomination for the WSA 2018 Madagascar
Government & Citizen Engagement Liberty32-Parliamentary Performance Scorecard -The project supports one of the most critical priorities of the democratization process:
Read more.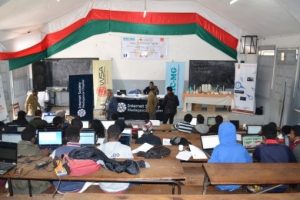 Hackathon Web WSA Madagascar 2018
A great success for HACKATHON WEB, organized by ISOC (Internet Society) Madagascar, NIC-MG (Network Information Center Madagascar) and Orange
Read more.
WSA Grand Jury 2018
WSA Grand Jury, Accra 2018 20 international experts in entrepreneurship, innovation and IT meet for 3 days to evaluate
Read more.
WSA Global champions 2018
WSA Global Champions Vienna AND THE WINNER IS…. 40 WSA winners and 5 WSA Young Innovators pitched their innovative
Read more.